Message from the Chairman
Message from the President of the Japan Cornea Society
Tetsuro Oshika (University of Tsukuba)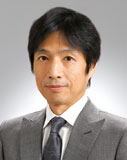 The Japan Cornea Society was established 40 years ago, and now consists of more than 1,200 members, making us the world's largest academic society in this subspecialty. Although the organization is called a "cornea" society, our areas of interest include the conjunctiva, the tear film (ocular surface), the lacrimal gland, the meibomian gland, and basically all tissues that impact upon corneal integrity. Accordingly, we deal with a variety of topics such as ocular injection, ocular allergy, dry eye, degenerative disorders, contact lens issues, corneal topography, anterior segment imaging, optics, keratoplasty, eye banking, amniotic membrane transplantation, refractive surgery, lacrimal diseases, corneal neovascularization, ocular surface immunology, and ocular surface regenerative medicine. Such diversity is one of the allures of our subspecialty, appealing to many researchers, clinicians, and students.
Our subspecialty has a favorable balance between medical and surgical elements. Many cornea specialists are well-versed in both medical treatments and surgical procedures. In addition, clinical and basic science research are well-balanced in this academic area. I am happy to say that corneal specialists in our society are extremely active, and the level of clinical and basic science research is highly recognized globally.
Despite the internationally renowned quality of research and clinical practice by members of the Japan Cornea Society, we have yet to achieve a high level of interaction with cornea specialists from other countries. In order to foster better international exchange, we are in the midst of implementing more open and integrative policies. As an example, we have started to use English slides for oral presentations so that international attendees of the Annual Meeting of the Japan Cornea Society (also called the Cornea Conference) may participate easily in the exchange of knowledge and free discussion. Symposium sessions in English are also being prepared and we would like to invite cornea specialists from Asia and around the world to participate in our annual meeting. Furthermore, we would like to encourage young Japanese ophthalmologists to participate in the big international cornea meetings, including ARVO, the World Cornea Congress, and the Asia Cornea Society Biennial Scientific Meeting. It is our desire to create an atmosphere of international exchange that benefits all parties involved.